Social & Solidarity Economy
Supporting inclusive work opportunities for all
RREUSE wider network comprises of social and solidarity enterprise models including Work Integration Social Enterprises (WISE). WISE's use the economic activity of re-use, repair and recycling to provide job and training opportunities for people distanced from traditional labour markets.  By understanding initiatives at Member State level, RREUSE identifies trends, good practices and ways of making the workplace more inclusive for people with disabilities, marginalised groups and long term unemployed. RREUSE advocates at EU level for the ways in which social economy enterprises support communities and individuals. Inclusive and supported workplaces benefits society and individuals alike, and should not simply be measured in economic terms, but also through social impact. RREUSE continues to explore the social impact of social and solidarity enterprises.
Our aims
RREUSE aims to ensure that social enterprises are well represented in the relevant legislation through:
Advocating for the inclusion of social clauses within tendering procedures and EU legislation where members are operating, particularly in re-use, recycling and the circular economy
Cooperating with other partners in the promotion of social clauses and awareness raising of best practices, including awareness raising in Member State and EU guidance
Linking social clauses more strongly to the transposition of the Waste Framework Directive
Responding and contributing to relevant roadmaps by the European Commission, providing concise information from some 850+ social enterprises in the wider network
Actively participating and representing RREUSE members in expert groups and debates at EU level with a collective goal in SDG achievement
EU policy agenda
Sustainable Public Procurement
RREUSE works to ensure Member States include environmental and social clauses proposed by the Public Procurement Directive, which was revised in 2014. In particular, RREUSE encourages EU Member States to make use of reserved contracts in tendering procedures for social enterprises (article 20 of Public Procurement Directive). RREUSE plays an active role in  the Network of Sustainable Public Procurement and Development (NSPDD), working closely with social partners to ensure the expertise of the wider network is fed into upcoming EU guides and directives.
European Pillar of Social Rights
Proclaimed by the European Parliament, the Council and the European Commission in November 2017, The European Pillar of Social Rights is a set of twenty principles to deliver new and more effective rights for citizens. It has 3 main categories:
Equal opportunities and access to the labour market
Fair working conditions
Social protection and inclusion
The European Social Fund+ (ESF+) fund is set to support the implementation of the European Pillar of Social Rights.
VAT
RREUSE advocates for a reduced VAT for second hand goods, and more favourable conditions for social enterprises across Europe working with second-hand goods, in repair and re-use. On 18 January 2018, the European Commission published proposals to revise the current VAT directive, part of an effort to create a harmonised and simplified VAT system across the EU. RREUSE stresses the importance for special mention to be given to enterprises to benefit from reduced or 0% VAT for products and services contributing to social welfare.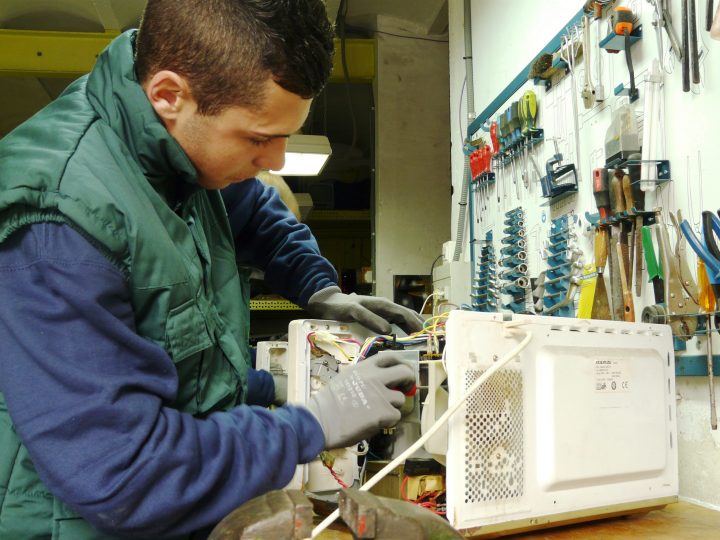 Further reading on social enterprise