RREUSE Activity Report 2020
Building on resilience, innovation and circularity amidst global pandemic
2020 was a relentless year, marked by global fear, uncertainty and instability. For social enterprises active in circular services, COVID-19 severely disrupted existing activities, placing immeasurable strain on many of the most vulnerable staff, trainees and volunteers. The crisis also exacerbated discrepancies in fiscal and political support for social enterprises throughout Europe. In spite of their evident community oriented services, numerous social enterprises were denied access to COVID support schemes, simply due to their legal status.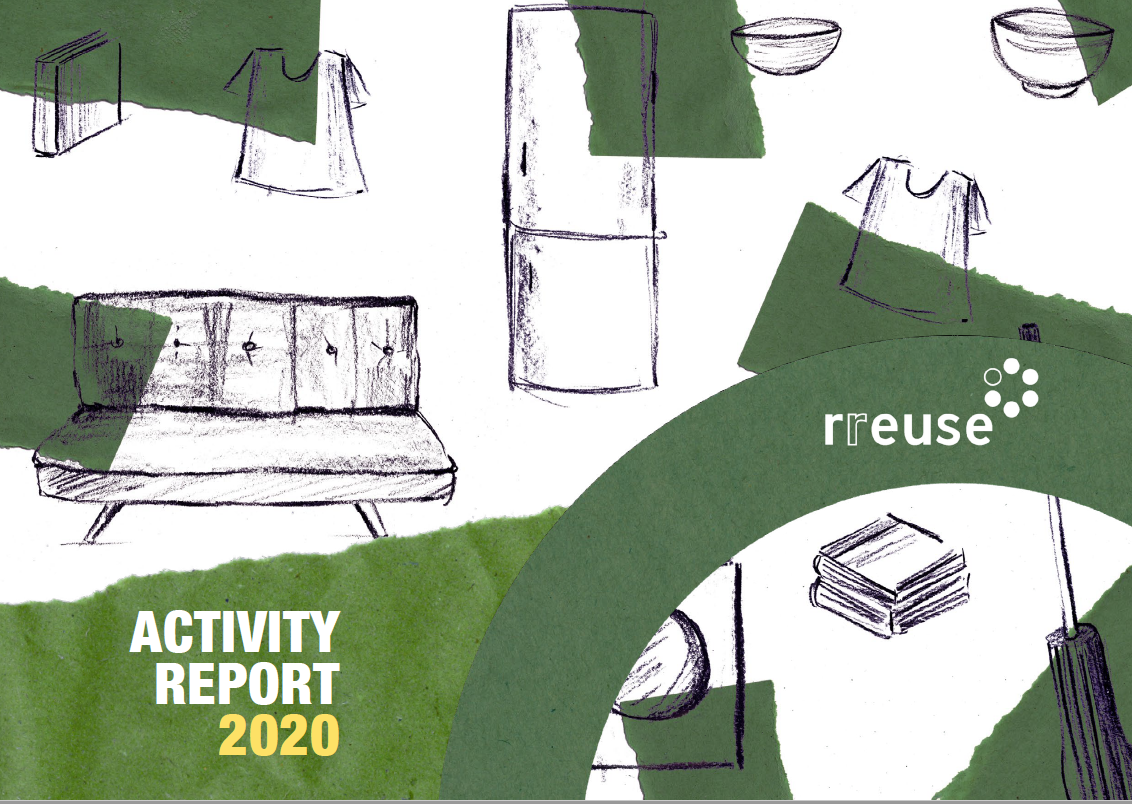 Yet in the face of such adversity, remarkable stories of resilience emerged. Many operations were re-oriented at the flick of a switch, fuelled by the drive to help those in need. Support services for the elderly and furloughed staff were created; essential refrigeration equipment was redirected to new medical facilities; masks were sewn on mass; refurbished laptops were donated to children from low-income families; bicycles were given to frontline workers – and the list goes on.
In times of such disrupted global trade chains, making used goods available and affordable for all people not only reduces resource consumption, waste and CO2 emissions, but provides an essential contribution to making local economies more just and resilient, which should serve as the driving force for business models of tomorrow.
Throughout the year, RREUSE rallied to support its members. RREUSE leveraged a two-way channel of real-time communication between its members and the European institutions, calling for swift financial measures, including the EU's Recovery and Resilience funds. RREUSE was invited to voice its concerns at the highest political levels in Brussels, including a high-level roundtable with EU Commissioner for Employment, Nicolas Schmit, as well as organising workshops on social enterprise resilience during crises at the European Social Economy Summit.
All our individual and joint actions contributed to official recognition of the social economy as a key sector having been hard-hit and eligible for potential direct future financial support.
Moving forward, RREUSE has cause for cautious optimism regarding a green and social recovery. One of RREUSE's biggest achievements in 2020 was having the EU Commission's Circular Economy Action Plan recognise social enterprises as pioneers in the circular economy. Not only does this provide a sense of true validation and appreciation for the role of social enterprises in the green transition, it opens the door for future targeted political and legal support for their development, including through the upcoming Action Plan for the Social Economy, to be published at the end of 2021.
Thank you for your interest in our work and for taking the time to read a snapshot of the RREUSE network's achievements in 2020.