RREUSE enriches its network with the addition of new members!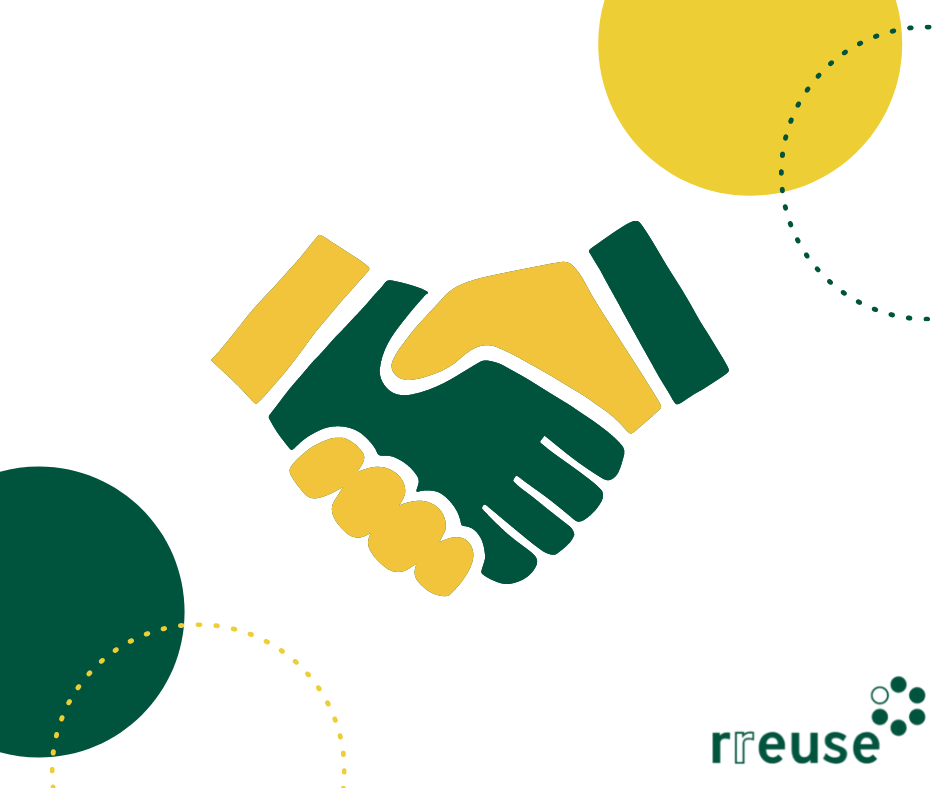 During the latest RREUSE General Assembly, which took place on March 17th 2022, the RREUSE network welcomed two new Associate Members, one new Effective Member and one new Supporting Member.
We are excited to see our network grow with the addition of TESS and Rediscovery Centre as Associate Members.
TESS is a European Economic Interest Grouping (EEIG). Since 2016, TESS has brought together European players in the social and solidarity-based economy (SSE). The core purpose of TESS is to help build an economic alternative that respects people and their environment. The founding and driving values of TESS are: The primacy of people and labour over capital in the distribution of income, transparency, dialogue, solidarity, respect for the environment and international law. The vision of TESS is that the social and solidarity-based economy should be the major player in the recovery of all textiles, household linen, shoes and clothing accessories of household origin, used or unused. Today TESS is composed of European players coming from Belgium, Spain, France and Italy. TESS aims to give a new lease of life to 100 000 tonnes of clothing, household linen, shoes and leather goods every year.
The Rediscovery Centre is the National Centre for the Circular Economy in Ireland. A creative movement connecting people, ideas and resources to support greener low-carbon living. As the National Centre for the Circular Economy, they bring together the skills and expertise of artists, scientists, designers and craftspeople united in a common purpose of sustainability. Located in a bespoke demonstration eco-facility, the Rediscovery Centre supports four reuse social enterprises: Rediscover Furniture, Rediscover Fashion, Rediscover Paint and Rediscover Cycling. The Rediscovery Centre is an accredited Discover Primary Science and Maths centre. Their education team offers interactive and experiential workshops for primary, secondary, and third-level students which cover wide-ranging environmental and STEM (Science, Technology, Engineering & Maths) topics. The Centre's translational research activities support national waste prevention and climate action policy and advocate for a more resilient and equitable society.
Our new Supporting Member, Ethikis is a social company part of the Circular Economy based in France whose purpose is to promote sustainability and ethical consumption at a European level. They help manufacturers understand and improve their environmental impact by developing concrete tools (such as the LONGTIME® label, designed to help the consumers choose more reliable,  repairable and "designed to last" products), to fight against outdated practices. Ethikis believes that supporting European citizens in their choice by bringing transparency and a longevity/price ratio will dramatically change the consumption habits towards a more reasonable and sustainable behaviour. They work closely with all stakeholders from expert repairers & spare parts specialists to manufacturers & distributors to create value and boost their positive impact.
Fairwertung has moved to the status Effective Member. FairWertung is an association of non-profit collectors of used clothes in Germany. The umbrella organization itself does not collect or recycle any used textiles, but it has developed and implemented a binding code of conduct for non-profit clothing collections. Those collectors who follow the code of conduct are allowed to advertise their used clothes collections with the name and symbol of it. This means that if the laber is shown on a collection or container, the collection is carried out in accordance with the Code of Conduct for non-profit clothing collections. For consumers, this is an orientation aid if they want to donate their rejected textiles responsibly and for a good cause.
We are excited to see how their contribution will help our network grow and achieve more of our goals.
Welcome to RREUSE, TESS, Rediscovery Centre, and Ethikis.